While accompanying BC NDP Spokesperson for the Environment MLA George Heyman on a guided canoe tour, Nelson-Creston MLA Michelle Mungall pointed out ospreys fishing and western painted turtles sunbathing at the water surface. The tour through the Creston Valley Wildlife Management Area was part of a visit to see some of the environmental issues facing the region that included stops at local farms, wineries and businesses.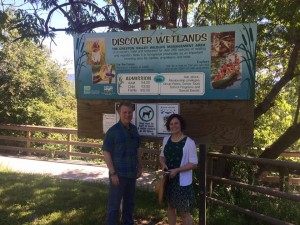 "In Creston we have something very special. This diverse wetland supports biodiversity at all levels and is considered internationally important," Mungall noted. "Unfortunately, the Creston Valley Wildlife Management Area hasn't had the support it needs from the provincial government over the years. That needs to change."
Heyman agreed, the government's record on environmental protection has been lacking. He wants to see the government become more proactive in dealing with environmental issues.
"I think initiatives of this government have been reactive and haphazard. What people want to see, and don't see, is an overall environmental management plan and assessment process – one in which people have faith and one that gives industry a clear idea of the rules they're going to be operating within," he said.
To get a taste of the valley's abundant agricultural production, Mungall later took Heyman to Sutcliffe Farms to buy some of the last asparagus of the season. They also sampled the local vintage at Skimmerhorn and tasted the specialties of Creston's newest restaurant at Memories of Indian Cuisine.
Impressed by his visit to the Kootenays, Heyman joked to Mungall "I'm jealous you get to call this corner of BC home."